Influence of Cr doping on the structural, magnetic, optical and photocatalytic properties of α-Fe2O3 nanorods
Authors
Popov, Nina
Krehula, Stjepko
Ristić, Mira
Kuzmann, Ernő
Homonnay, Zoltán
Bošković, Marko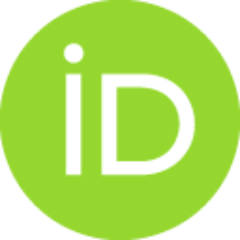 Stanković, Dalibor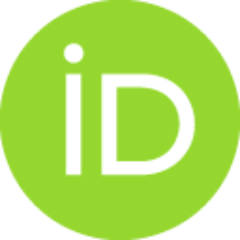 Kubuki, Shiro
Musić, Svetozar
Article (Published version)

Abstract
Pure and Cr-doped hematite (α-(Fe1-xCrx)2O3, x = 0, 0.026, 0.039, 0.085 or 0.135) nanorods were prepared by a simple co-precipitation and calcination method. Influence of different levels of Cr doping on the change of properties of long and thin pure hematite nanorods was investigated. Cr3+-for-Fe3+ substitution in the crystal structure of hematite was proved by measuring a gradual contraction of the unit cell and a gradual decrease of the hyperfine magnetic field by increasing the Cr molar fraction. Cr doping induced an increase in the width and thickness of hematite nanorods, as well as a decrease in the overall surface area. Low temperature 57Fe Mössbauer spectroscopy showed that the Morin transition in hematite was suppressed by Cr doping to temperatures below 80 K. Magnetic measurements confirmed the suppression of the Morin transition in Cr-doped hematite down to 5 K. Infrared spectra of Cr-doped hematite samples showed shifts of IR bands by Cr3+-for-Fe3+ substitution. Optical pr
...
operties of α-Fe2O3 nanorods changed significantly by Cr doping – the absorption edge was shifted to higher wavelengths, accompanied by a greater absorption in the visible range and narrowed direct and indirect optical band gaps. The improved visible light photocatalytic activity of hematite nanorods in the heterogeneous photo-Fenton process by moderate Cr doping was measured, which can be attributed to the modifications in electronic structure and optical properties.
Keywords:
Cr dopant / Hematite / Morin transition / Mössbauer spectroscopy / Optical band gap
Source:
Journal of Physics and Chemistry of Solids, 2021, 148, 109699-
Funding / projects:
Croatian Science Founda-tion (Project No. IP-2016-06-8254).
Ministry of Science and Education of the Republic of Croatia and the Ministry of Education, Science and Technological Development of the Republic of Serbia (bilateral Croatian-Serbian scientific project).