Evaluation of DNA/BSA interactions and DFT calculations of gold(III), zinc(II) and palladium(II) complexes with triammonium N-dithiocarboxyiminodiacetate
Authors
Kasalović, Marijana P.
Petrović, Angelina
Živković, Jelena M.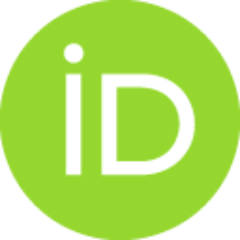 Kuckling, Linus
Jevtić, Verica V.
Bogojeski, Jovana
Leka, Zorica B.
Trifunović, Srećko R.
Pantelić, Nebojša Đ.
Article (Published version)

Abstract
Dithiocarbamates, with their high lipophilic character and good chelating properties, could provide stabile transition metal complexes and enable these metal-based drugs to reach their biological targets. Palladium(II) and gold(III) complexes, due to its structural similarity with platinum(II)compounds, could be competitive candidates for implementing and developing new pharmacological agents. Herein, novel gold(III) complex with triammonium N-carboxyiminodiacetate as ligand has been synthesized and characterized by elemental analysis, molar conductivity measurements, FT-IR and 1H and 13C NMR spectroscopy. The proposed structure was examined and compared with analogue palladium(II) and zinc(II) complexes by density functional theory (B3LYP/def2tzvp). Additionally, DNA-binding studies by UV/Vis-spectrometer as well as ethidium-bromide (EB) and bovine serum albumin (BSA) quenching studies by spectrofluorometer were performed for gold(III), palladium(II) and zinc(II) dithiocarbamate compl
...
exes. The investigated complexes showed a good affinity to calf thymus DNA (CT-DNA) and BSA, with a higher affinity to BSA. Palladium(II) complex exhibited 5-fold a stronger affinity to DNA binding in comparison to zinc(II), but no significantly higher than gold(III) complex. Furthermore, palladium(II) and gold(III) complexes demonstrated a similar affinity toward BSA and these interactions are stronger than showed by zinc(II) complex.
Keywords:
DFT calculations / Dithiocarbamate / DNA/BSA interactions / Metal complexes
Source:
Journal of Molecular Structure, 2021, 1229, 129622-
Funding / projects: